TURN PROCESS INSIGHTS INTO ACTION
Divergence.AI is a Full service Management and AI consulting firm. We are based in Dallas, TX.
Our deep capabilities in strategy, process, analytics and technology help our clients improve their performance. We provide expert, objective advice to help solve complex business and technology challenges. We bring our knowledge and experience to develop and integrate AI-driven solutions within the customer's business environments.
Fully automated AI solution life cycle
Our solutions framework is centered on three fundamental principles that Every Business operates in a Network, All Networks generate Signals, and that those Signals need to be Amplified.

Collect & Prepare
Extract and enrich data from images and text with on-demand labor, intelligent machines, and robotic process automation.

Thresholds & Alerts
Provide selective feedback via alerts on hard risk and compliance data decisions using predictive analytics.

Track & Trace
Use powerful multi-faceted search and intuitive display with pretty visualizations to get to desired data faster.
Who we are
We create stakeholder value by tackling challenging business problems with innovative industry specific technology solutions focusing on empowering people and leveraging next generation data-driven solutions.
People
The value of any organization is the effectiveness of its people. Our mission is identifying solutions to improve the value of individuals within the organization so both can grow.
Processes
Technology is outpacing traditional solutions and we unlock value by transforming processes benefiting from containerization and automation.
Solutions
We build high-value next-generation data-driven solutions by converting traditional work into containerized hyper-specialized tasks leveraging on-demand workers, and machine learning technologies.
Key benefits using our solutions
Academic Bridge
Unique access to labs and institutional research to reduce the time to solution regardless of your industry.
Applications for Today
Our solution architectures keep pace with technology changes to ensure continuous improvement to your operational efficiency.
Relationship Driven
Our service does not end when an application is deployed –it's only the beginning of our relationship.
Expert Solutions
We leverage industry leading experts to develop, deploy, and support our solutions.
Compelling
We work constantly to ensure your experience is so compelling you brag about us to all of your industry friends!
Engineering Excellence
Our solutions are based on real-life experiences managing large integrated transactional systems.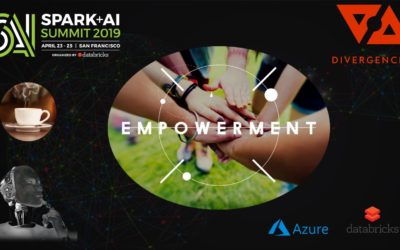 Should IT have a dedicated Data Science and Machine Learning team and take on projects funded by various Business Units?
Or should they empower Business units with a robust platform and empower them to dig into the Data and come up with AI models themselves?
The right strategy in my opinion is a combination of the two, with a heavy bias towards empowering the Business.
Read on for my reflections on Spark AI Summit, 2019
read more